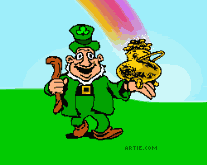 March is the month for the wearin' o' the green! Below are some fun St Patrick's Day events and projects you should check out!
(If you know of any we may have forgot, please email us at
contact@enjoyutah.org
)
FUN EVENTS:
Saturday March 12th - The Gateway

A FREE puppet show at the library that kids of all ages will love! Various times and locations.

Kids, see if you can find the Lucky Leprechaun hidden in the Children's room and get a piece of gold. March 7th through March 19th - Sandy Library

Families. Celtic Music and audience interactive songs. Dan & Annie Eastmond on guitar, mandolin, tinwhistle, fiddle, banjo, voice. Limericks & Irish blessings thrown in for good measure. Whole family will enjoy!
March 7th at 7pm - Holladay Library
March 14th at 7pm - Kearns Library
March 21st at 7pm - Bingham Creek Library
March 28th at 7pm - Hunter Library

Music and dance at the Orem Library March 17th
ST PATRICK'S DAY CRAFTS and other resources:
Irish Door Hanger
All ages. Drop by the library and pickup a take home craft. Bring the luck of the Irish home to hang on your door. No registration required.
March 14th through March 19th - Taylorsville Library
Families. Join us for a fun St. Patrick's Day craft.
March 14th at 7pm - Bingham Creek Library
Easy and Fun St Patrick's Day crafts for kids.
Printable Crafts and Coloring Pages:
A fun and very inexpensive craft to dress up your home for March! A great craft from Nat Mac's Knick Knacks.

This year we made a cute little leprechaun similar to the one in the video below, and also set up traps to catch the leprechaun.

How to have a fun, family-friendly St. Patrick's Day party!